As if you haven't been inundated enough already, we are here to issue another friendly reminder to vote if you haven't already. Every member of NPSH has already voted and it feels sooooo greaaaat! It is our first voting prez-election. We'll probably watch the TV a lot today in between intensive musical labor. half JK on the last part.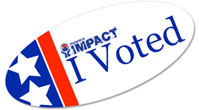 here is a video called "Seattle" that has nothing to do with Seattle


Rock on my friends!

NOTE: This is our 100th post! Hooray!!!!